| | |
| --- | --- |
| Council 400 Blog | Aug 12, 2023 |
Council 400 Annual Summer Picnic!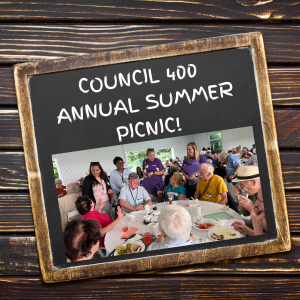 The sun was shining, the laughter was contagious, and the sense of camaraderie was undeniable - that's how we'd sum up the fantastic day we had at CSEA Council 400's Retiree Picnic held at the Farmington Club. Representatives from Aetna and the Comptroller's Office joined in too, answering all of our members questions about healthcare and pensions!

With the Farmington Club as our picturesque backdrop once again, hundreds of our union members relished the beautiful weather and the opportunity to catch up with old friends and make new ones. The picnic was a gentle reminder that being a part of CSEA doesn't end with retirement; the bonds we've built within the union continue to thrive even after we've hung up our work boots.

Special shoutouts go to Comptroller Sean Scanlon and State Senator Rick Lopes for taking time out of their busy schedules to join us. Their presence was a testament to their commitment to labor issues and the well-being of retirees. It's always inspiring to chat with our elected officials, especially when they are as dedicated to the cause as we are.

And speaking of numbers, we had nearly 200 eager folks sign up for the event, making it a true union celebration. As we look back on this incredible day, we're reminded of the strength and unity that our union brings, even as we transition into retirement. The Retiree Picnic was more than just a social event; it was a reaffirmation of the bonds we share and the values we hold dear as members of CSEA Council 400. Here's to many more picnics and gatherings that keep the spirit of our union alive and thriving!