| | |
| --- | --- |
| Paraeducator Council Blog | Apr 15, 2022 |
Para Appreciation Week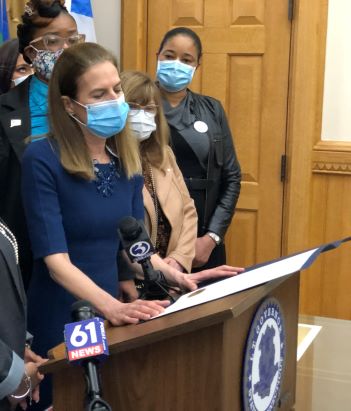 The first week of April has officially been proclaimed Para Appreciation Week. CSEA?members along with Governor Lamont wasted no time celebrating, uplifting positive stories of the work paraeducators do and pushing our legislative priorities.
Paraeducator Council President, Cynthia Ross-Zweig, travelled throughout the state to ensure that the voices of CSEA paraeducators were heard in the Governor's Office, the State Board of Education, the General Assembly and press outlets from across Connecticut.
The week kicked off with two proclamation signings from both the Governor and the State Board of Education where Ross-Zweig proudly represented CSEA. She also addressed the Commissioner of Education Charlene Russell-Tucker and legislators to talk about the need to pass meaningful legislation to help paraeducators help their students.
Ross-Zweig also joined in interviews with outlets across the state were Jennifer McLarney, a paraeducator at Birch Grove Primary School in Tolland, Kelly McQueeney, a paraprofessional in the Avon school district, Cindy Giammatti, a paraeducator within East Haven Public Schools, and Victoria Ceylan, a paraeducator in the Danbury school district along with her son AJ Ceylan, a student who benefited from his paras in Danbury.
Check out some quotes from their interviews below, and be sure to listen for another interview on NPR with Vicky and AJ Ceylan!
"In her role as a paraeducator, Cynthia Ross-Zweig has helped kids learn to read and write, she's prepped for SATs, and lately, she's been learning to use a bandsaw. 'We really do everything,' Ross-Zweig said. Paraeducators serve many roles and often work with students with various disabilities. But training for the role can vary by school district, Ross-Zweig said. Some districts have it, and others don't.'I strongly feel that the training we get should be universal and unified across the state,' she said." (CT Mirror, 4/8/22)
"I think it'll provide more legitimacy to being a paraeducator, and people will realize that this really can be a long-term career choice,' McLarney said of the bill. [She] said in an interview that often paraeducators who work closely with children with disabilities get information second-hand about their education programs."(CT Mirror, 4/8/22)
"Paraprofessionals who spoke to CT Examiner, said that development opportunities, including the chance to learn the jargon used in special education plans, would better prepare them to do their jobs, and give them a way to move upward in their careers. And not having this professional development, they warned, would have a negative effect on students. In the case of McQueeney, and many other paraprofessionals, at least some of those students have special needs.'The more training we get, the more diversified the training is … the more universal it is across the state,' McQueeney told CT Examiner, the more students will have the necessary support." (CT Examiner, 4/20/22)
"Cindy Giammatti, a paraeducator within East Haven Public Schools, said the bill "is a great step in the right direction for much-needed improvements for work life, the whole climate and culture for paraeducators. What's most important that this bill addresses is the treatment, dignity and respect that paraeducators
deserve that in many cases is not
evident." (Hartford Courant, 3/25/22)
"Now, she and her son are advocating for a bill that would provide professional development for paraeducators, better involve them in planning and placement team meetings for special education students, and create a group that would work toward developing a professional certification process for these staffers.'But most of all: this bill is an opportunity to begin to treat paraeducators with the respect and dignity that they have earned,"'Vicky Ceylan said." (News Times, 3/26/22)
Throughout the entire week, the Para Bill, HB5321, was at the forefront, reminding legislators and the press of the importance of going beyond an "appreciation week" and enacting meaningful legislation that would help to improve the services paraeducators provide to students across the state.
HB5321 came out of the Education Committee with a version that made all paras, and their students, rejoice. Unfortunately, however, upon being voted out of the Appropriations Committee, it was gutted.
The version that passed out would allow paras to attend PPT meetings at the parent's request, and allow paras to look at the IEP. It also still has the requirement that the State Department of Education has to include the number of paras, wages, healthcare expenses, and other data on strategic school profiles, but requires SDE to do it "within available resources"- a legislative term that means it won't get done because there's no money. An annual review of healthcare plans available to paras, the creation of a working group to explore a paraeducator certification program, and the establishment of clear professional development plans for paras were cut from the bill.
At the time of this printing, CSEA paraeducators are continuing to partner with our coalition allies to fight to revert the bill back to the
post-Education Committee version. Be on the look out for an email with the most up-to-date information on where this bill stands in the
Legislature.