| | |
| --- | --- |
| P-3B Council Blog | Jun 06, 2022 |
P3B Celebrate Earth Day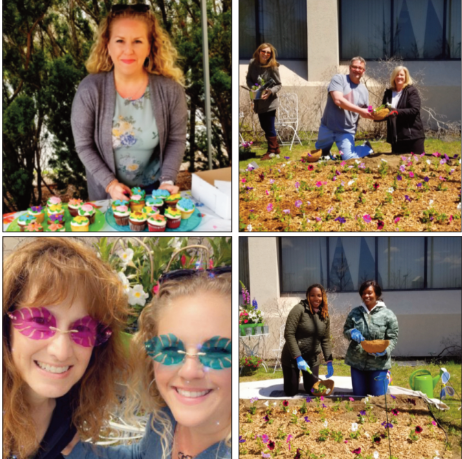 By: Pamela Armstrong, P-3B Council Leader
The P3-B Disability Determination Services employees located in Hartford celebrated Earth Week every day during lunch from 4/25/22-4/29/2022. Employees spent time together outside, planting flowers in front of the office building while raising money to support Knox Inc. This urban forestry, education, and jobs training non-profit uses horticulture as a catalyst for community engagement. They forge partnerships between Hartford residents, businesses, and government and act as a conduit to build greener, stronger, healthier, and more beautiful neighborhoods throughout Hartford.
The event was garden-themed, with lawn games, a raffle drawing, garden gift baskets, and flower cupcakes. People who have never tried gardening before were excited to get to dig in the dirt for the first time. Together, our staff planted over 240 flowers which will help our pollinator population in Hartford as we quickly approach summer. People from every part of the office
participated: Disability Examiners, Supervisors, Hearings Officers, Clerical, Scheduling, Finance, Quality Control, Security, Medical and Psychological Consultants, and Managers. A special thank you goes out to the head of our agency Kim Williams, who is an avid gardener, and Dianne Bryd in our medical processing unit; both ladies planted extra flowers on the final day of the event to assist with filling in the circle of flowers.
The event was organized by Pamela Armstrong and Amy Corvino. As a result of the event, our office staff raised $440 to donate to Knox Inc. who will deliver 2 outdoor city planters full of flowers to the building in June.
It was wonderful to see so many faces throughout the week and the joy we shared will last throughout the summer while the flowers bloom adding color and greenery to our daily lives.
This event was sponsored by P3 B and Disability Determination Services through the Quality of Work Life Fund.