| | |
| --- | --- |
| Inspectors Council Blog | Jul 26, 2022 |
Meet Our Members: Joseph Hurley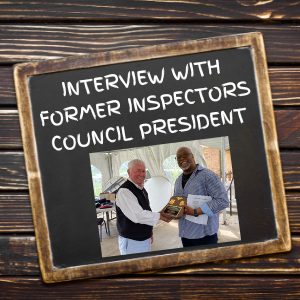 Joseph Hurley, former President of the Inspectors' Council, retired on March 31st after 28 years in the Division of Criminal Justice (DCJ). His service to both our state and CSEA SEIU Local 2001 is greatly appreciated and we wish him a long and happy retirement.
Hurley's career started well before his time at DCJ, however as he was a New Haven police officer from August of 1972, serving in the Patrol Division until he was transferred to the Narcotics Enforcement Unit in January of 1988 and from which he retired as a Detective in 1994. The City of New Haven greatly benefited from his 22 years of service, but their loss was the State of Connecticut's gain.
Hurley started at DCJ on April 29, 1994 (having just retired from the New Haven Police Department just one day prior!) where he was originally assigned to the Office of the Chief State's Attorney (OCSA) and would serve there until December 25, 2018.
At the time of being hired, he was assigned to the then Asset Forfeiture Bureau (AFB) and served as the liaison officer to all law enforcement agencies in the state for forfeiture matters.
From there he was transered to the Financial Crimes Unit (FCU) now the Statewide Prosecution Bureau (SPB), then transferred to the Medicaid Fraud Control Unit (MFCU) in December 2016 and then spent two years in the MFU investigating accusations of people defrauding the Medicaid program. Then he was finally, in December 2018, he transferred to the Waterbury Judicial District. There he helped prosecutors with various investigative requests, sat in on interviews, served subpoenas, etc., all post-arrest work.
EVERYTHING a law enforcement officer does is IMPORTANT! Whether it's helping to cross children at a crosswalk on their way to school, assisting a disabled motorist, or drafting an arrest warrant for a murder suspect.
Short staffing naturally plays a crucial role in how well you can do your job. He remembers a time when he was in the AFB and had to go by himself and try to talk to subjects because he couldn't get an Inspector from another unit to accompany him. Later he would be asked why he did that and the answer was simple – because he had to - that's part of the job.
It was certainly an eye-opener for Hurley when he was asked to replace the outgoing treasurer in 2011, and when he was asked to run as vice-president in 2014, and even more so when he had to assume the presidency in mid-2019 (when the serving president retired) until May 2021.
One of the things Hurley is most proud of in his capacity as a union leader was achieving guaranteed payment for unused compensatory time. Hurley also wanted to take a moment to thank others who helped in the fight, "All our union members can also congratulate our CSEA staff representative, Julius Preston, whose time and devotion helped to get that passed. Without his help, the Inspectors might still be seeing our compensatory time-lapse in December of whatever year we were forced to "use it or lose it".
When asked to explain the importance of the job of an Inspector, Hurley answered, "All of us come from police departments with years of experience in multiple disciplines, the most important of which is dealing with people, a very, very important part of this job.
"An Inspector's job is a rewarding job because you can usually see the entire scope of the investigation from beginning to end and know that you are making a difference in people's lives."
Congratulations once again Joe - CSEA?looks forward to having you continue your union journey in Council 400!