WELLNESS
Your union leaders at P3-B know the importance of a work-life balance, and your P3-B contract is mindful of your wellbeing and the wellbeing of your family. Please see the contract highlights below. We want to see you thrive and grow in your career as a state employee, and focusing on the wellness of you and your family members is key to helping you to achieve your personal and professional goals.
---
Big Brothers/ Big Sisters Program: Earn an extra week of vacation per year
P3-B MEMORANDUM OF UNDERSTANDING - BIG BROTHERS/BIG SISTERS
What: Following each calendar year of active participation in the Big Brother or Big Sister program the employee will be granted one week of additional annual vacation.
Who: Union members employed by the State of Connecticut may participate in Big Brothers or Big Sisters programs
The participating employee must have a minimum of one year of state service. The employee must be a full time employee with permanent status.
Quality of Work Life Fund
P3-B contract and TA
Article 59
What: The purpose of the Quality of work life fund shall be to establish arid support programs which will improve the work environment, skills and morale of employees, such as day care, safety, training, absenteeism, impact of deinstitutionalization and other mutually agreed upon projects. There shall be sixty thousand dollars ($60,000) appropriated in each year of the contract for the Quality of Work life fund.
How: Work with your union steward and your agency designee to create a proposal and submit the proposal to your agency designee for approval, then the agency approved proposal it gets submitted to the P3-B Quality of Work life Committee for approval. The approved proposals get sent to DAS.
Family Sick Leave
P3-B Article 40 Sick Leave, Please see your current P3-B Contract and TA for the most updated sick leave guidelines.
What: 10 days Family Sick Leave days per calendar year to care for a member of your immediate family (included as part of your total sick leave accruals).
How: Code as SFAM on your agency sick leave slip
Emergency Room Waiver
What: This Emergency room waiver form must be completed by an employee seeking a waiver of an Emergency Room Copayment of $250*.
How: Submit completed form and Attach a copy of your ER discharge summary with this form
CO-1315 Partnership Plan rev 12-2019.pdf (ct.gov) (Form Link)
Sick Leave Bank/FMLA Forms
P3-B Article 40 Sick Leave, Please see your current P3-B Contract TA and for the most updated guidelines.
What: 200 (1/2 day pay) or 100 ¾ day pay when on an extended sick leave for member.
When: Payments shall begin on the 6th work day after exhaustion of sick and personal leave, and exhaustion of greater than 45 days of vacation leave
Who: Permanent state employees employed for 2 years or more
How: Submit completed forms to the HR agency designee.
Complete and submit the Medical Certificate MEDICAL CERTIFICATE (ct.gov) (Link To Medical Certificate Form)
Complete and submit FMLA Leave Request form Please read carefully the attached information regarding your family/medical leave entitlements under federal (FMLA) and state (ct.gov) (FMLA Form Link)
Complete and Submit Sick Leave Bank Application Office of Labor Relations Forms Table (ct.gov) (Form Link-- 2015 sick leave bank form not yet updated for current TA)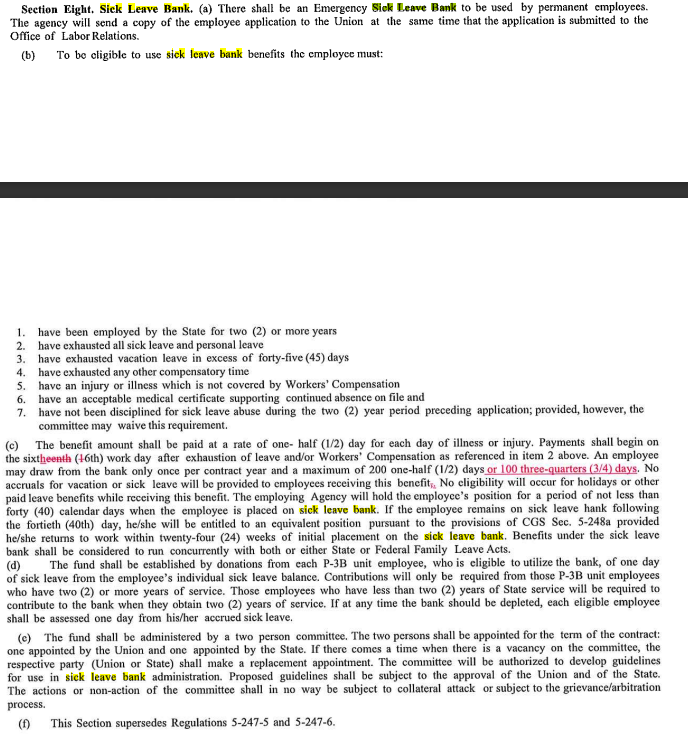 Your State of Connecticut health benefits offer 30-minute seminars led by Wellspark health professionals every month.
Register Today! To register for the seminar(s), click on the REGISTER link before the scheduled start time.
? Once registered, a confirmation email will be sent to you from Emblem Health. Just click 'accept' to add the meeting link to your Outlook calendar.

Now open for registration: Asthma Basics, Hypertension Basics, Hyperlipidemia Basics, Developing Stress Hardiness, and Fall Asleep and Stay Asleep, Naturally.
Anyone in the HEP Chronic Condition program can satisfy the education requirement by participating in the corresponding "Basics" seminar. To update chronic condition compliance, include your medical insurance ID# when registering for the corresponding seminar.
Life happens. We can get run down. Your immune system is something that should be nurtured. Learn natural ways to boost your immune system.
We know that there are many negative aspects of stress; however, it is important to realize that one can develop a hardiness or resistance to stress. The characteristics of stress hardiness are: control, commitment and challenge. These qualities can be learned.
Participants will learn about the gold standard treatment for insomnia in sleep medicine: cognitive behavioral therapy (CBT). This technique will help you fall asleep and stay asleep.
Participants will gain an understanding that food is not just something to get rid of hunger; it is the fuel for our bodies. It will also equip you with knowledge about healthier dietary choices that can help proactively manage or prevent certain chronic illnesses.
When we focus solely on being present and mindful in the moment, we are practicing a type of meditation in our daily lives. The more mindful we are, the more efficiently, joyfully, and skillfully we can move through life.
*Research has shown that keeping a journal of your innermost feelings can improve your health. The purpose of this session is to increase awareness of feelings and present journal writing as a coping skill.
You can also find the current month's seminar (and registration links) on the upper right side of your HEP portal page.